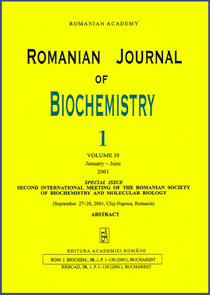 Publisher:


(All rights reserved)
About Romanian Journal of Biochemistry


Romanian Journal of Biochemistry, abbreviated as Rom.J.Biochem. - is edited by The Romanian Academy & The Institue of Biochemistry, and it is published by The Romanian Academy Press.

Romanian Journal of Biochemistry is a peer reviewed general biochemical journal covering topics related to:
- Cellular Processes and Systems Biology,
- Biomolecular Structure and Dynamics,
- Biomethods and technologies,
- Diseases, Molecular Medicine and Diagnostics,
- Bionanotechnology and Biocompatibility
In these areas and related topics, the journal accepts for publications research papers and reviews of both large (4000 - 6000 words) and short communication format (~2000 words and <4 figures).
The journal does publish also special issues such as: covering scientific events; book reviews; proceedings of national and international bio-meetings held in Romania.

Groups from all around the world are highly encouraged to submit papers on-line for publication in Romanian Journal of Biochemistry.
Peer review is fast and papers are e-published ahead of print if accepted, such that the results will readily enter into the public domain. For 'non-perfect' English, friendly help and suggestions are provided on form and format if the content is accepted.

Romanian Journal of Biochemistry is indexed and abstracted in ISI Thomson Scientific Master Journal List, Biological Abstracts, Biosis Previews, CAB Abstracts, Genamics JournalSeek, VetMet Resource, In-cites.
In Romania Rom.J.Biochem. is ranked as a CNCSIS Cat. B+ journal.