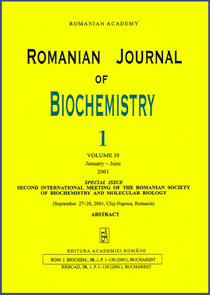 Publisher:


(All rights reserved)
Issue: 42
2005


ANTIVIRAL ACTIVITY OF LACTOFERRIN AGAINST BOVINE VIRAL DIARRHEA VIRUS
Aurelia Raducanu, Cristina Stoica, Madalina Icriverzi, Catalin Lazar, Norica Nichita, Anca Roseanu
pp. 21-29

Lactoferrin (Lf) is known to present antiviral activity towards a wide range of human and animal viruses. This paper describes the antiviral property of Lf using for the first time the bovine viral diarrhea virus (BVDV), currently used as a model for hepatitis C virus (HCV). We found that bovine Lf (bLf) and human Lf (hLf) were potent inhibitors of BVDV-infection in Madin-Darby bovine kidney (MDBK) cells only when Lf and the virus were incubated for 1 h at 37º before infection. The inhibitory effect was shown at the level of both viral infectivity and viral protein expression. The anti-BVDV activity was specific to Lf and was not influenced by the iron content of Lf. The bLf hydrolysate, a pool of pepsin-digested bLf fragments, was less efficient than the native protein, suggesting that the Lf size or conformation is important for its antiviral activity.